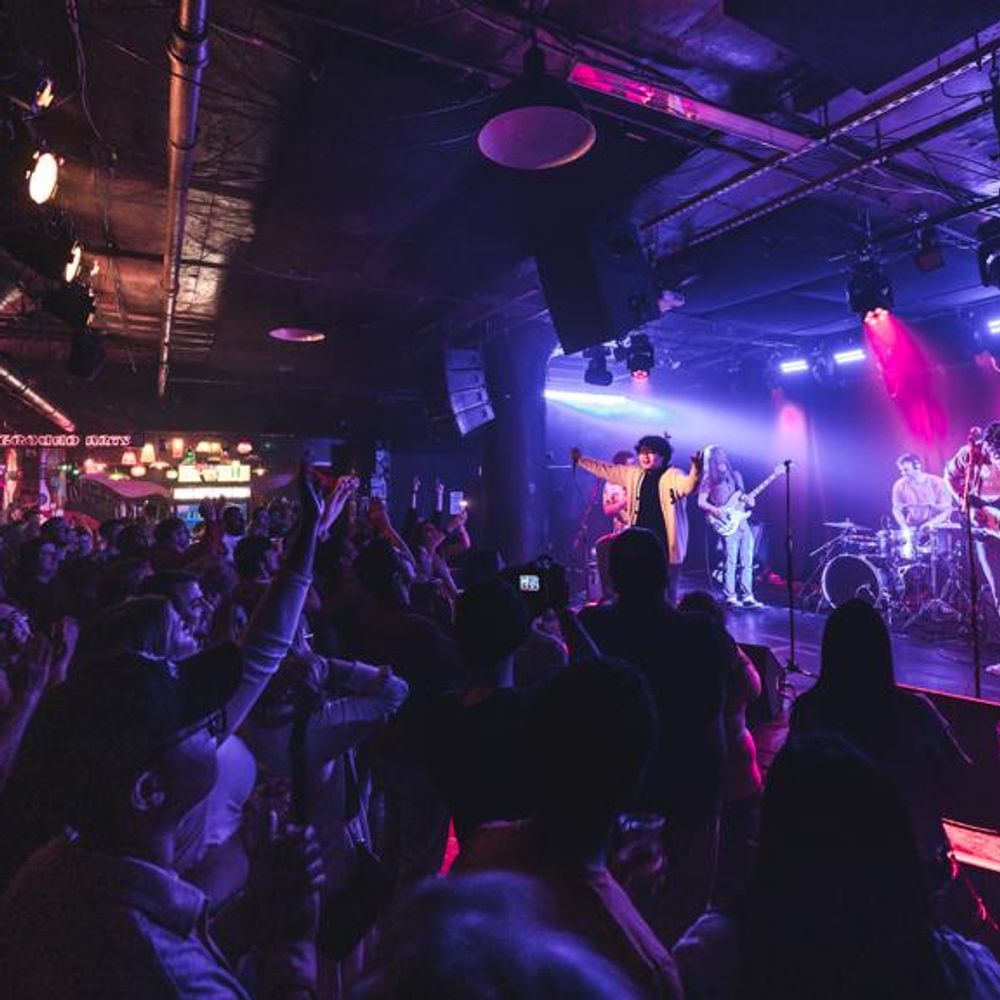 Bio
Moonroof is a Philadelphia-based band that plays upbeat, catchy indie rock and alt-pop. Moonroof have been making waves in the indie-pop scene since their 2018 debut. With over 5 million streams on Spotify alone, Moonroof has shared the stage with indie heavyweights The Lumineers, Death Cab for Cutie, and Grouplove. The band consists of lead singer Dave Kim, drummer Dan Rendine, guitarist Johnny Fordyce, and bassist Kevin Randolph.
The band began while Dave, Dan, and Kevin were attending Bloomsburg University. After graduation, the band relocated to the Philadelphia area and continued playing shows and releasing music.
The band's music has been played on Philadelphia-area radio stations Alt 104.5 and WXPN. They have a strong social media following with engaged fans.
Moonroof signed with Free Dive Records in October of 2020. After the signing, Moonroof released four singles, First, Vanilla, Sweatshirt, and Bored and Numb. Moonroof released their EP Dream State in Oct 2021, which debuted as the #2 Alternative Album behind Coldplay and #6 Overall on the Apple iTunes Top 200. Moonroof played a sold-out EP release show at MilkBoy in Philadelphia on Nov 19, 2021.
In 2022, Moonroof Performed at THON at Penn State's Bryce Jordan Center, sharing the stage with Chelsea Cutler. Moonroof shared the stage with Foxtrot & The Get Down on March 18th at Underground Arts in Philadelphia. On June 11th, Moonroof played at Milkboy with Saint Slumber.
Summer 2022, Moonroof stayed busy releasing more music, and playing more shows and festivals, like Musikfest, 2nd Street Fest, Beta Hi-Fi music fest, Deutshtown Music fest, and more. On August 19th, Moonroof released their newest Single Maybe Crazy, which premiered on the Alt 104.5 New Music Discovery Show.
2023 Moonroof is staying busy working on new songs and playing many shows on the east coast traveling to new areas like Ohio, Boston, playing shows and festivals. Moonroof recently had their EP Release show at Underground arts Nov 25th 2023. They are working hard on their first album and going on Tour in the Summer.
Moonroof's Metrics
Venues Played: BB&T Pavilion,Bryce Jordan Center, Underground Arts, The Foundry, Milkboy, World Cafe Live, Sellersville Theater, Xfinity Live, Broken Goblet Brewing, The Englewood, Silk City Diner, The Basement Ohio, Westside Bowl, The Middle East Club,   iHeart Radio Station, Steel Stacks, Mercury Lounge, Amityville Music Hall, The Soundbank  Voltage Lounge, East Berlin, The Barbary, Tellus 360, Creep Records,The Kelly Center  and many more venues around the East Coast. 
Festivals: Musik Fest, 104.5 Birthday Show, 104.5 Winter Jawn, 2nd Street Fest, Ceder Crest Mayfair,  Deutschtown Music Fest,  Ram-boreee West Chester, Paw-ooloza Bloomsburg, Oroboro Fest,  Haverford Music Festival, Launch Music Fest, Electric Music Conference, Brain Fest,  Penn Ridge Art/Music festival, Bloomsburg Fair, Radical Music fest.   
Bands Played With: The Lumineers, Death Cab for Cutie, Grouplove, Lewis Capaldi, AJR, The Association, The Interrupters,    Chelsea Cutler, Sara Bareillis, The Criticals, Divine Sweater,Saint Slumber, Scott McClatchy, Rome Hero Foxes, Foxtrot & The Getdown, Go Go Gadget and many more. 
Radio Play and Podcast: Played on Alt 104.5 and WXPN, Craig Radio show. Y-Not Radio, WTSR, WHIP,Little Known Tracks, The Yo show, Spontaneity show, The Heavy Hooks Show, The Hirst Brothers, The P word. 
Blogs: Premiered on Wonderland Magazine and NYS Music. Alt 104.5 Philly iheart Radio,  Featured on the Key multiple times, Bloomsburg Magazine, The Collegian PSU Lower Bucks Times, More than the Curve, Tongue Tied Magazine, Music Connection Magazine, and Cut it Out Magazine and much more.  
Spotify and Youtube: Over 5,000,000 Streams on Spotify and over 3300 followers and over 500,000 youtube views and 2250 Subscribers.
Awards and Accolades : Charted #2 Alternative Apples Itunes Charts, Sold out our EP Show at Milkboy, WXPN Artist of the Week, PHL Radio 104.5 12th Birthday Show Winner, 104.5 Winter Jawn Winner, Akedemia Awards for Honey Honey, Music Streamy Award for Magazine. 
Facebook and Instagram: 6k followers on Instagram and 3k on Facebook